Managing certifications and supporting technical files

is

challenging

…



Manufacturers are tasked with tracking expiration dates, ensuring renewal projects are on schedule, supporting product changes impacting certifications and more. It adds up fast and be can even more difficult if documents are not centrally stored and easily accessible. 
With Global Validity's comprehensive solution, Access Manager, we ensure that everything is organized, searchable, and tracked for expiration. Our advanced features, including our certification management solution, simplify the process, providing you with peace of mind and efficient workflows.  
We value transparency and efficiency throughout all our efforts. We want to provide you with the same quality of information. Below are a few key features that make our certification management solution a true industry game changer and sure to elevate your global market access processes like never before.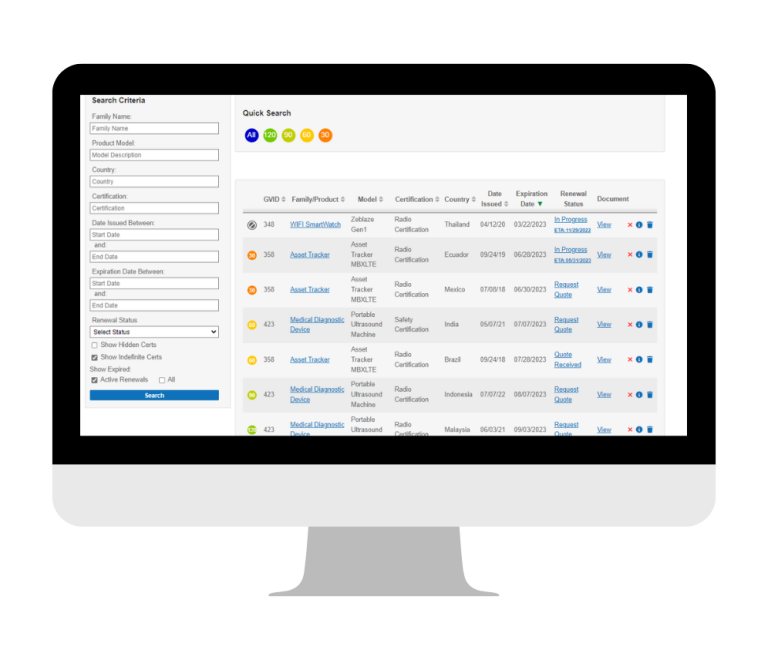 Organize and Categorize Certificates
With our solution, you can easily store and organize certificates based on their family, model, country, and certification type. This intuitive categorization system allows for quick and effortless retrieval of the necessary documents. 
Seamless Integration with Access Manager
Certificates received through our Access Manager platform are automatically entered into the certificate management system. The system captures issuance and expiration dates, ensuring that you stay informed about certification validity. 
Effortlessly Import Legacy Certificate
Transitioning from other providers? No problem. Our solution allows you to easily upload legacy certificates with the auto-import function. This means you can centralize all your certifications in one place, eliminating the need for multiple systems. 
Technical File Management
Beyond certificates, you can also store product information and technical file documents associated with each certification. This comprehensive approach helps you maintain a complete record of all supporting documentation. 
Automated Expiration Notifications
Say goodbye to manual tracking and missed renewal deadlines. Our solution sends automated email notifications directly to assigned users when certificates are due to expire. Stay ahead of expiration dates and take timely action to ensure continuous compliance. 
Flexible Expiration Notification Settings
Customize the automated expiration notification period to fit your specific needs. Whether you prefer reminders a few weeks or up to a year in advance, our solution allows you to set the date that suits your business requirements. 
Efficient Renewal Tracking
Stay up to date on re-certification status effortlessly. Our automated renewal tracking feature keeps assigned users informed, eliminating the risk of overlooking important renewals efforts and ensuring compliance continuity. 
Generate Reports and Share with Ease
Need to create reports for audits or share data with your team? Our solution allows you to generate reports based on various search criteria options. Export and share the reports seamlessly, facilitating collaboration and keeping everyone in the loop. 
Download our certification management brochure